Product Highlight - February 2021
Recently the following items have been enhanced, modified or expanded upon, and are available in our latest version of MembersFirst Tee Times. Please see below for a detailed explanation of the new features available from this update.
What's New:
Enhancements
Enhanced Extra Tee Times
Updated Multi-Lock Notice
Searching For Closest Available Time Message
Enhanced Report Table Engines and Added Notification
Restrict Hole Placement Change In Block With Tee Times
Patches
Update Workflow For Deleted Chits
Admin only General Guest restricted, no restrictions in place
Utilization Report
Updated Reservation_Hole Email Token
---
Enhancements
Enhanced Extra Tee Times
As part of on-going efforts to enhance group play the Extra Times page was updated:
Incorporated the Extra Times page into the Reservations Detail page. When active, extra times display at very time top of page under Select Extra Times section.
Available tee times includes time based off of Holes. Previously, only based off of Times.
Extra tee times selection includes Special Starts (shotguns, cross-overs, etc.). Previously, only based off of regular tee times.
Created new optional setting for Extra Times Message. Displays above extra times highlighted with blue background. Club can post any message or set of instructions to help guide member selecting extra tee times.
Lock Multiple Times setting now controls how many extra times to display. Allows club to display more tee times than the max reservation size.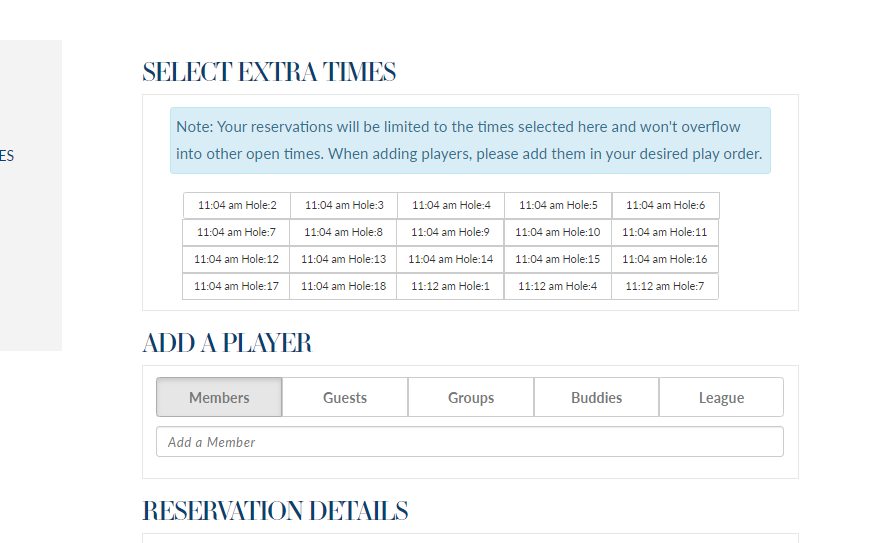 As extra times are selected a lock is placed on them ensuring that no other member can book same times. Green indicates tee time has been locked successfully.
When user has reached their max reservation size allowed, red warning displays indicating Max times allowed hit, please unlock times if you wish to change them.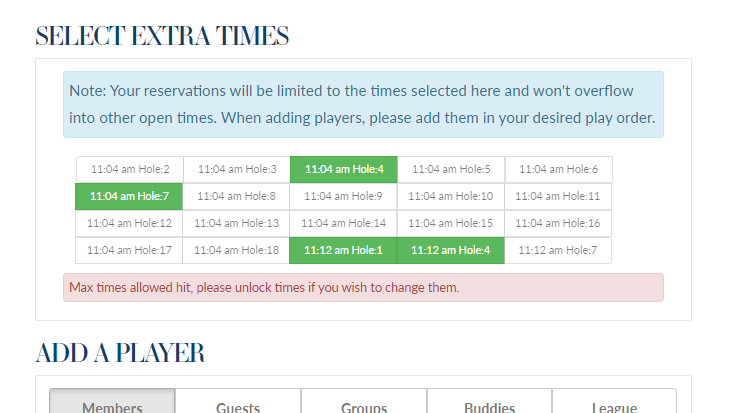 ---
Updated Multi-Lock Notice
Multi-lock notice now verifies the number of available slots remaining in the user's locked tee times and presents that information on the multi-lock notice so they can keep both their existing locks and make decision on which one to proceed with.
---
Searching For Closest Available Time Message
Added a processing request message to display while the system searches for the next available time.

---
Enhance Report Table Engines and Added Notification
Made the following updates to tee times reports:
Optimized the database with new table engines

Removes processing stress tied to generating larger reports and enhances performance of admin tee sheet while report generated.

Removed the Rounds Played - MTD, YTD report

The data generated in this report was duplication.
The Dates at a Glance report provides exact same data with better timeframe manipulation and flexibility.

Added a processing note to display on screen when Dates at a Glance report is run for any time period 3+ months.
Note states:

Please wait while the report is generated. Based on the time parameters selected this may take several minutes during which time the admin tee sheet will be unavailable. Please use a private browser window to use the admin tee sheet while the report is generated.
---
Restrict Hole Placement Change In Block With Tee Times
Added a restriction that prevents hole placement changes once there are existing tee times in a block.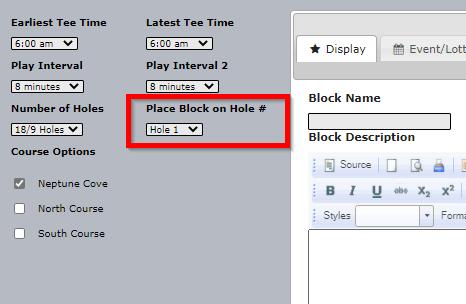 ---
Patches
Updated Workflow For Deleted Chits
Booking member's chits were not deleting when they deleted themselves from a tee time with other players in it. Updated all workflows to account for booking members deleting themselves.
---
Updated Block Restricted Variable On Guest Loop
The block restricted variable on guest loop was not resetting causing all guest categories in the guest search on admin booking page to be restricted. This was only occurring if the 1st guest category listed in a club's set of guest categories had season restrictions in place and the remaining categories did not.
---
Utilization Report
Updated the Utilization Report to not be hard coded to the original interval table. Any club who switched their tee sheet time interval reported double the available tee times in the data output from the Utilization Report with Include Blocks checked off.
---
Updated Reservation_Hole Email Token
The Reservation_Hole email token was broken with large group play. Only affecting clubs that allow large group reservations (4+ players), the tee time listed on the email confirmation for Lottery Results (Received Time) was the first tee time of the group rather than the specific tee time the individual was playing in.