Product Highlight - August 2022
You are receiving this email because you are a user of MF Tee Times. This product highlight email is delivered when existing features are enhanced or new features are released. Please see below for a detailed explanation of the product highlight.
---
System Configuration
The new System Configuration page that provides admin access to over 95 settings that control Communications, Time, Booking, Restrictions and Display options is now available to all admins!
Turning on the System Configuration page:
System Configuration is accessed via the Setup primary navigation.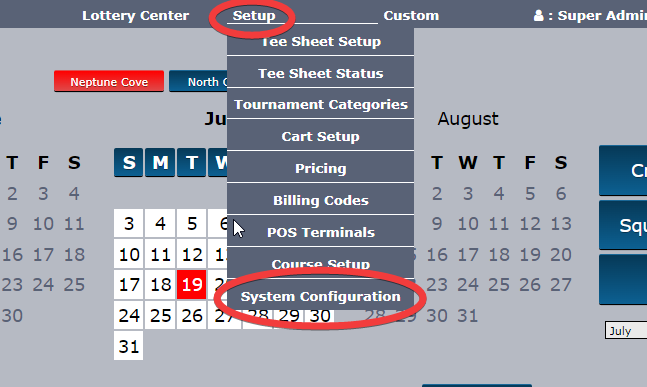 System Configuration is an admin permission (Accounts > Admin Accounts) and will only be visible in the Setup nav section to those admins who have the System Configuration permission checked-off in their admin profile.
Adding this permission is easy. Go to Accounts > Admin Accounts. Edit the admin profile you wish to update, check off 'System Configuration' and save. Any admin with the 'Administrators' permission checked off in their profile will be able to update other staff profiles with this permission.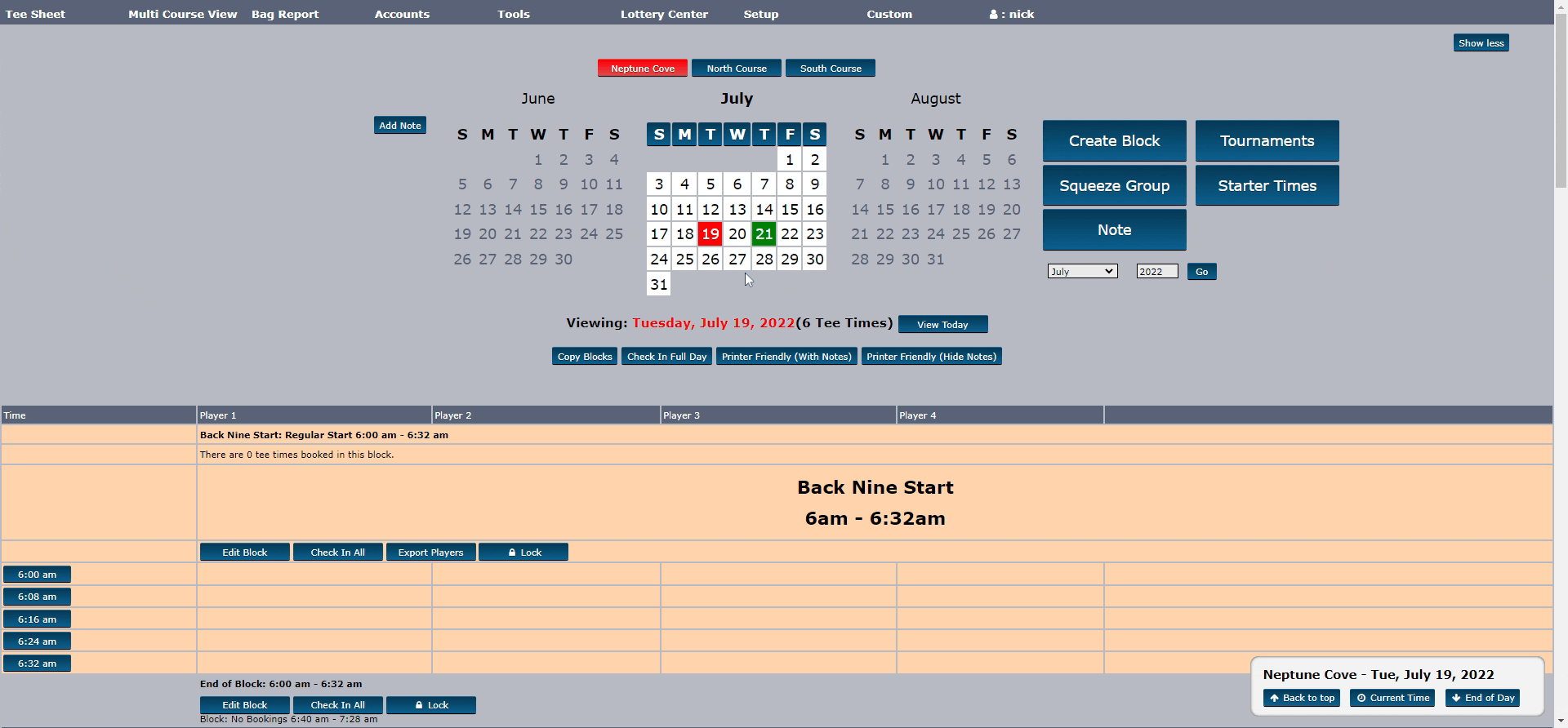 Using the System Configuration page:
The System Configuration page contains an array of setting options tied to the member and admin tee sheet.
To navigate this page, go to Setup > System Configuration. Click on the tabs at the top of the page to view all settings associated with that tab title. Each setting contains a description of how the setting works or how it will affect the tee sheet.
Once a setting has been updated click on the green 'Save' button in the lower right corner of page. Please note that multiple setting changes can be made across all tabs before saving. It is not required to save setting updates on each tab individually.
A successful save will display a green confirmation note at top of page that states "Successfully Saved Config" and the settings that were adjusted will also turn green with a "Success!" note.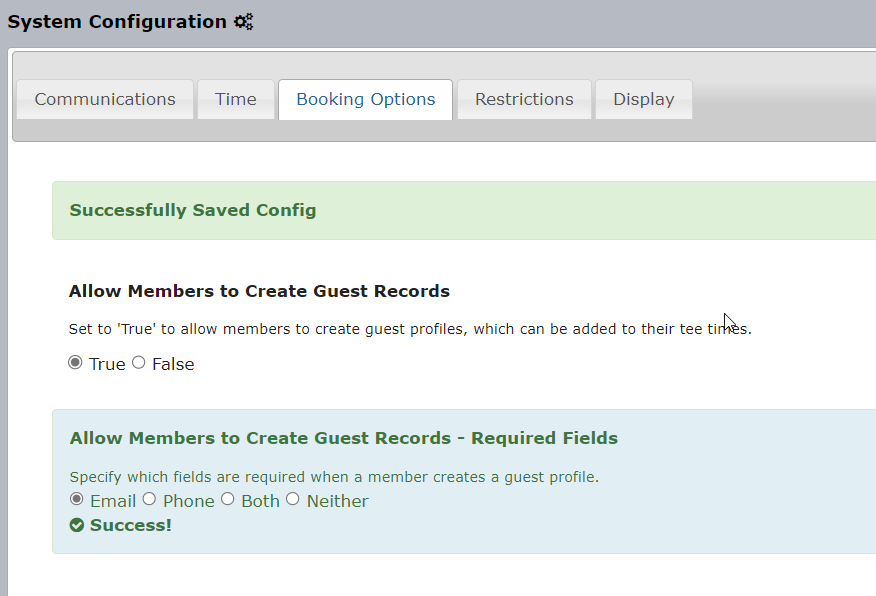 The following clip walks through the process of updating a couple settings in different tabs.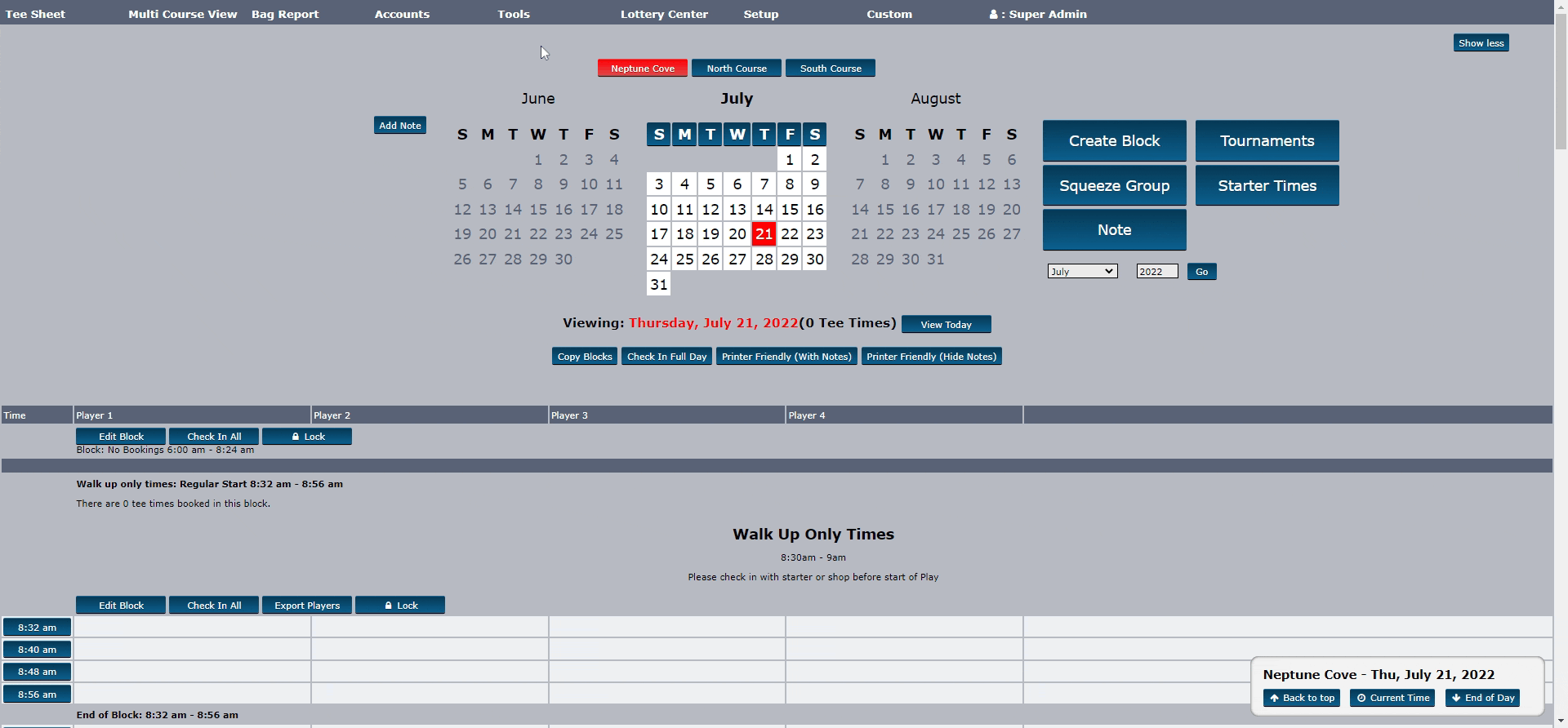 For assistance or questions, please contact [email protected].
---
Disallow Cart Type
Does your club have the need to enforce specific modes of transportation on the tee sheet? A new member/guest category restriction called "Disallow Cart Type" gives clubs the ability to enforce when specific cart types are allowed to be used on specific courses, days and times.
The Disallow Cart Type restriction is applied to member and guest categories within the Season Restrictions area. Setting it up is easy. Simply set your course, day of week, start/end time and the cart type you want to restrict. This feature allows for multiple cart type restrictions, so if there is more than one cart type you want to restrict you just need to create a span for each cart type.

Once the category restriction is active booking members will receive a specific error message indicating the cart type is unavailable at their specific tee time based on the restriction parameters the club sets.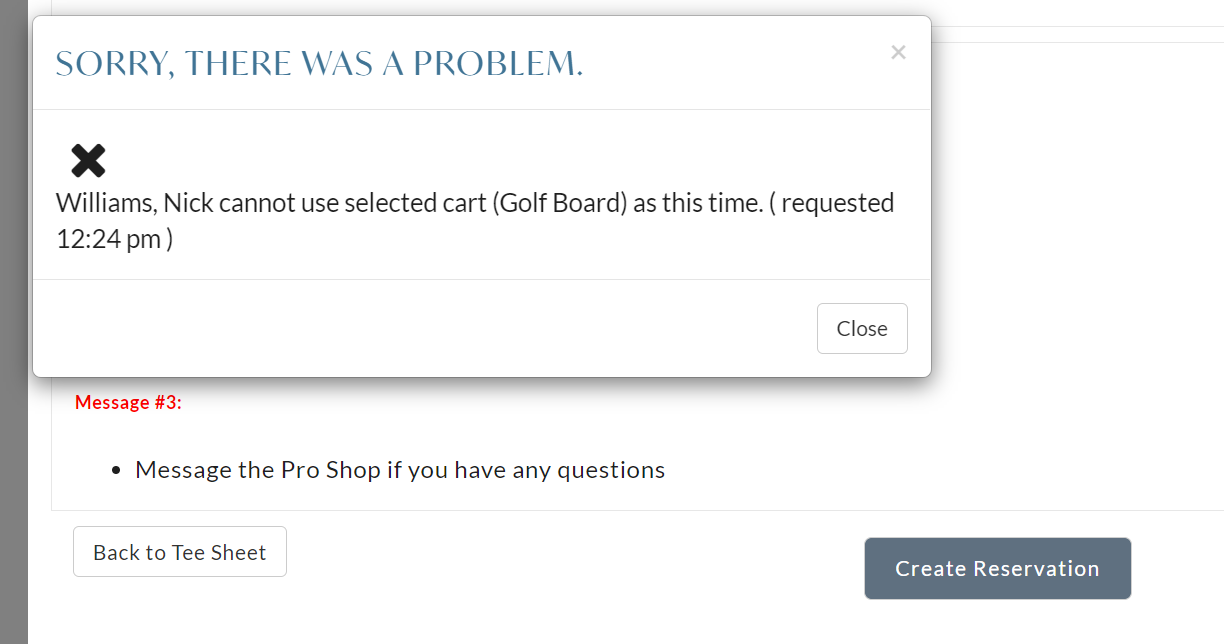 The category restriction is also enforced in basic and enhanced lotteries.
---
Hide Reservation Notes
Are you a heavy user of Reservation Notes? Do you add so many that it makes your tee sheet hard to read? If so, then you will love this enhancement, which hides all Reservation Notes from the admin tee sheet.
The traditional/default setup of Reservation Notes append the note to the reservation, as shown below.

With the Hide Reservation Note setting active, a new quick action button, as highlighted below, lives next to the tee time along with the other quick action buttons. The button only displays if there is a Reservation Note attached to the tee time. To view your note, you can either hover the cursor over the button to display it or click on it to load the message in a pop-up modal.

Here's a clip that reviews the functionality.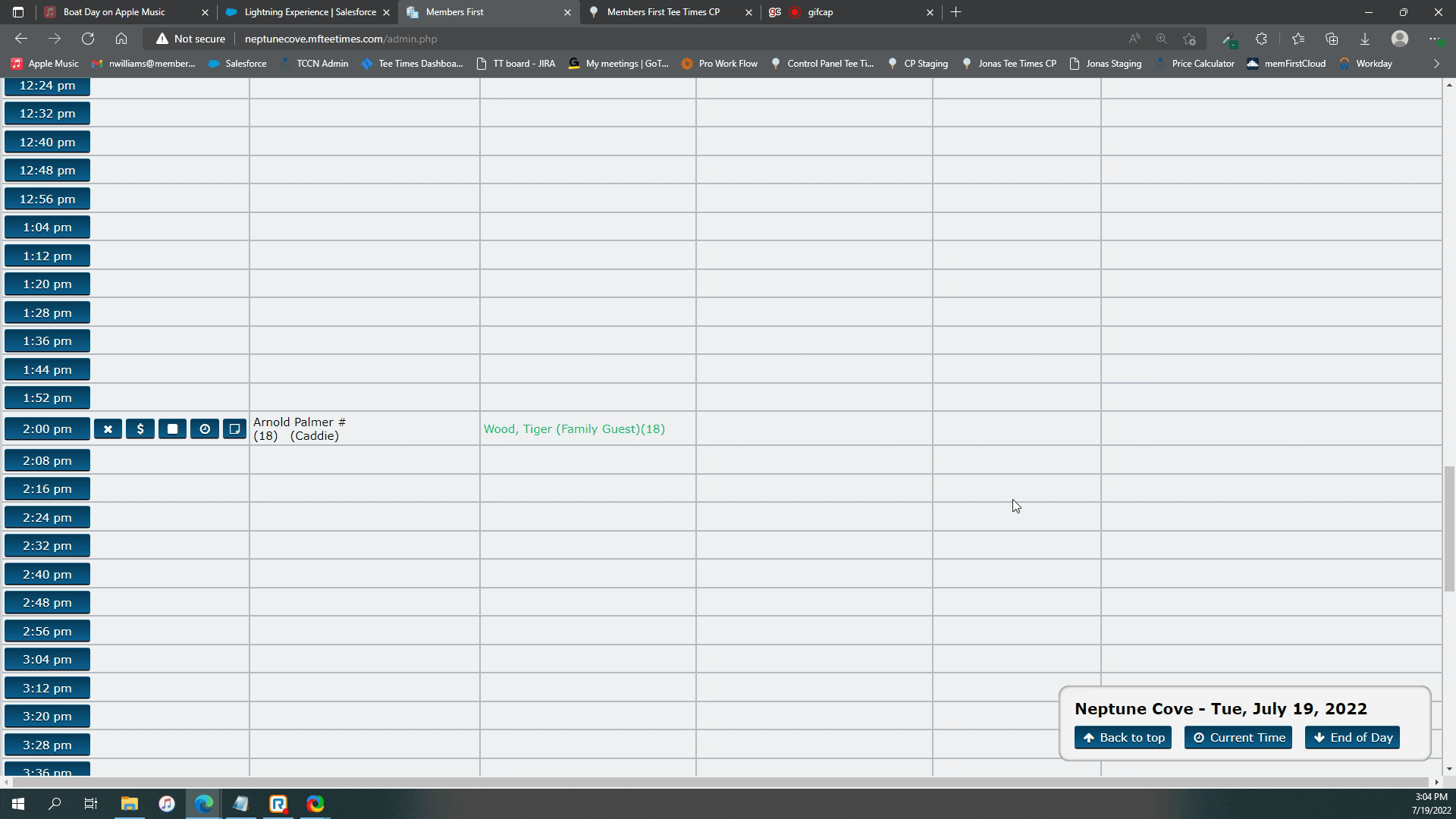 This setting can be managed on the new System Configuration page (Setup > System Configuration), listed within the Display tab section.

Please note the System Configuration page is an admin permission and must be added to your admin profile (Accounts > Admin Accounts). Please contact your golf staff's tee times super admin to update your admin profile with this new permission.
Please also note that there are different note types that can be applied to the admin tee sheet. Reservation Notes are created on the reservation detail page using the editor at the bottom of the page. A Reservation Note can be added during the booking process or can be added/updated/deleted at any point after the reservation is saved by clicking on the tee time, as shown in this clip.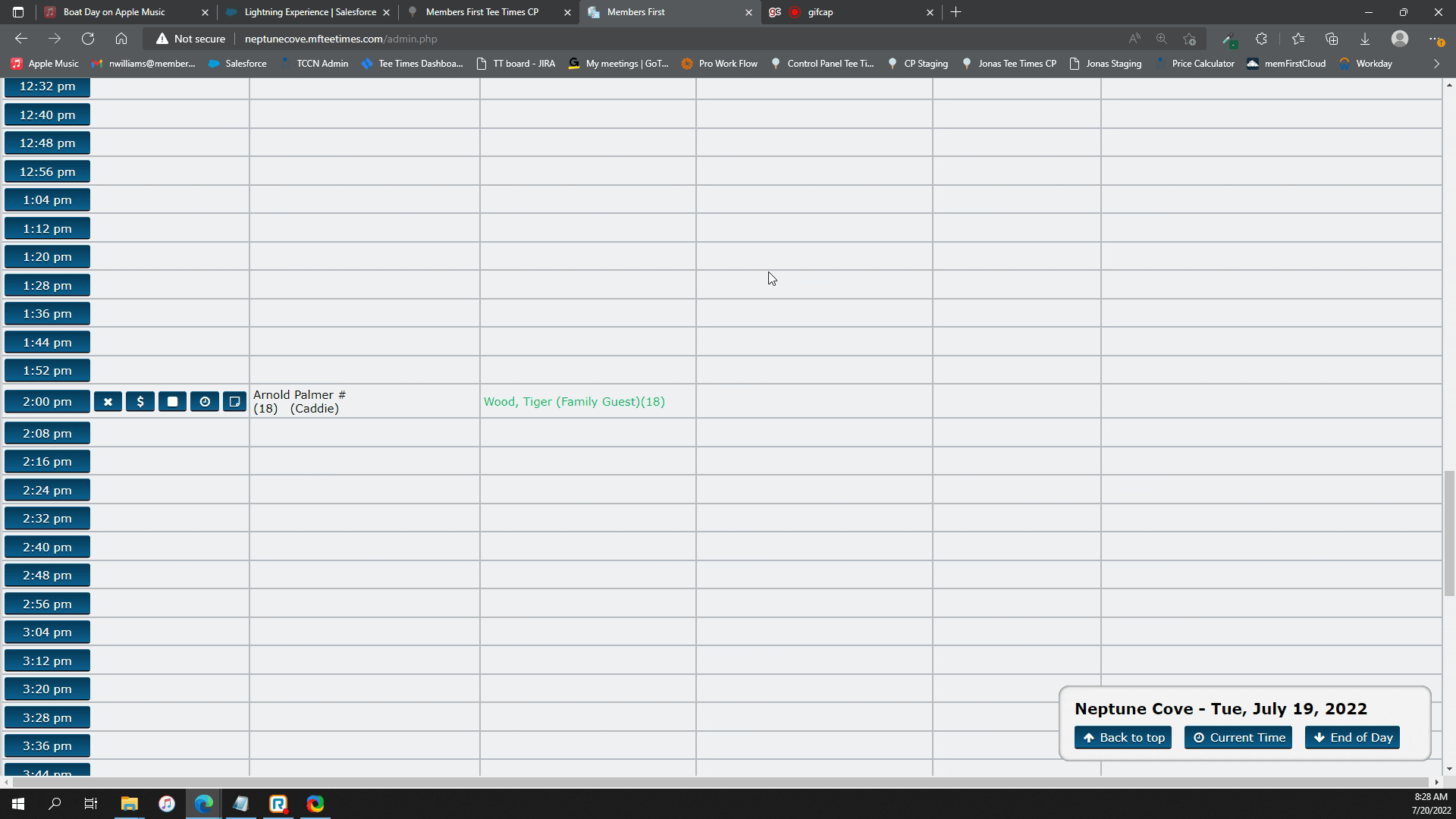 ---
Enhanced Lotteries - Locked During Run Process
The Enhanced Lotteries 'Run' process now includes a lock mechanism that engages while the lottery is running/processing and unlocks when it is completed. This eliminates the issue where a lottery is in the process of running and calculating entry placements and another staff member runs it too. If additional attempts to run the lottery are made before the initial one has completed its processing, the following error message appears.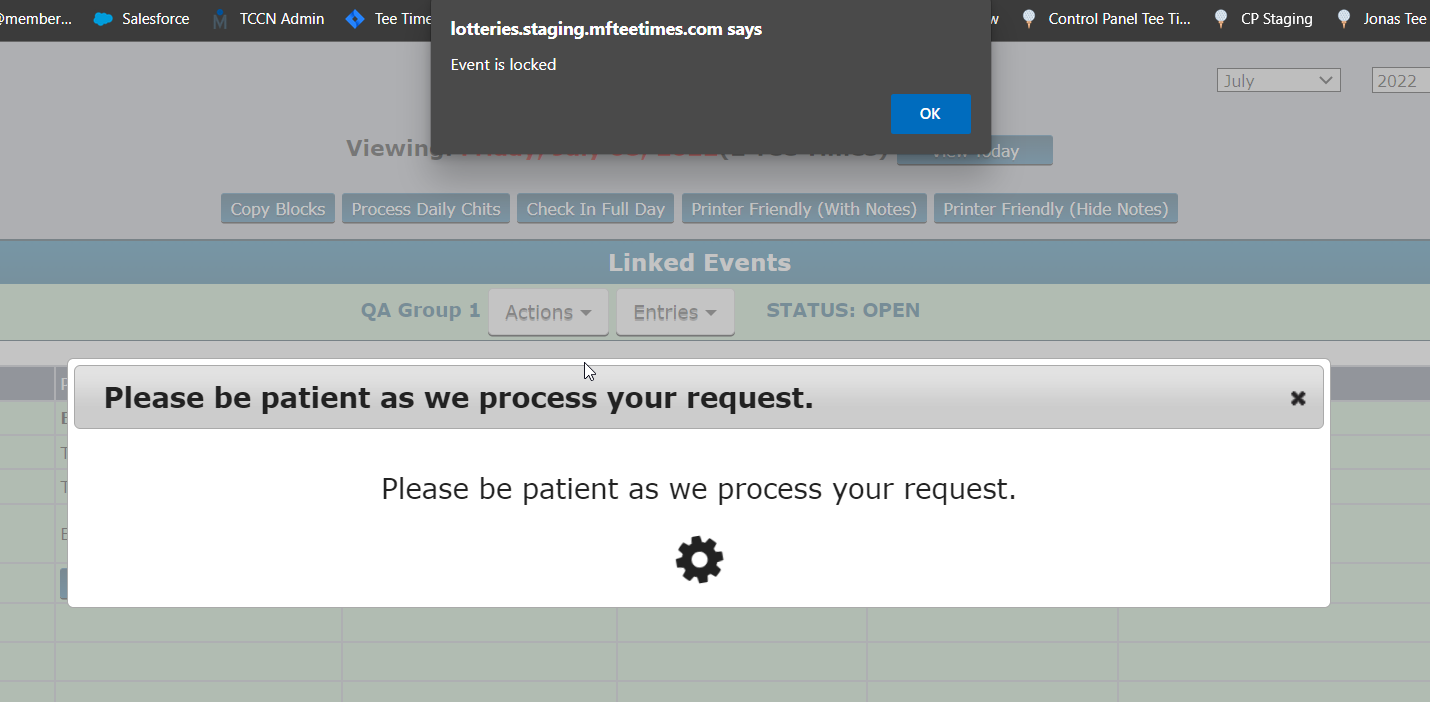 ---
This product update was motivated by your feedback and we're excited to provide it to you in the latest version of MembersFirst Tee Times. Have a recommendation for another feature enhancement? We'd love to hear from you!
Thank you for the feedback!