GDPR Communication & Member Data Consent
1. Identify EU Members
Log into the administrative homepage of your website
Open your quick links and click on "Member Directory" (or click on Membership in the applications box and then click on Member Directory there)
Click on the "Country" drop-down menu, scroll to the bottom and choose the last option for "All EU Countries" and then press "Search"
You will now see a list of all members with either a primary or secondary address that is located in the EU.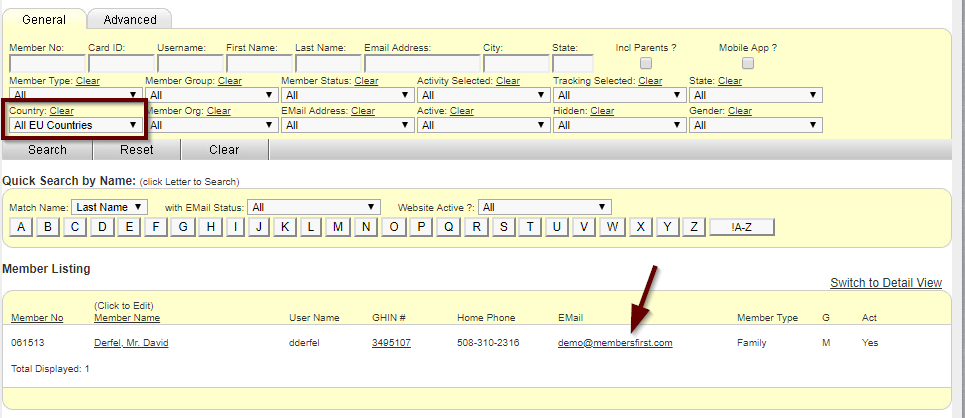 If no members appear in the search results then you do not have to follow the rest of this article.
2. Confirm Members have the ability to hide themselves
Administrators can enable the option to hide members in the Member Directory.
To enable, go to the Admin Home page and find the applications box for Advanced Configuration and choose General Site Config.
From the drop down menu, select Member Directory.
Scroll down to the Member Profile Visible Options.
There are two options for hiding the member's profile in the member directory.
Use option to allow Members to be hidden in the Member Directory
This will empower the member to set the hidden flag in their member preferences
Allow users to set the Hidden Directory Flag
This allows for administrator to hide the member's profile from the admin side.
Note: that this must be in enabled should the administrator wish to allow members to set the hidden flag.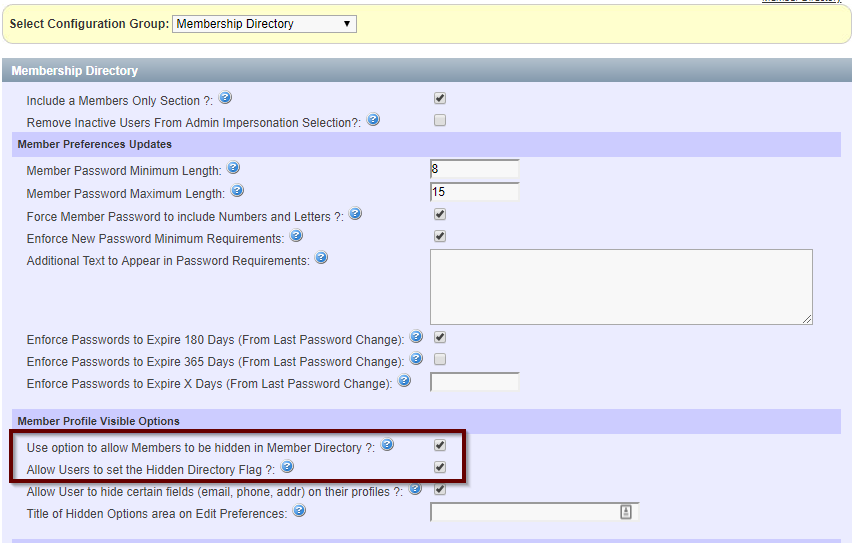 3. Hide EU members in the directory
From the filtered Member Directory in step 1, click the member name to edit the member's profile
From the General tab, note the section in the right column for Member Directory Options. There is a checkbox for "Hide user in Directory."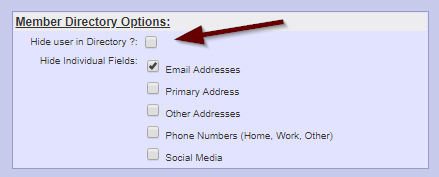 4. Start a new blast email to all of your EU members
Log into the administrative homepage of your website
Open your quick links and click on "New Message" (or click on Communications under the Applications box and then click on New Message there)
Enter a name for your new message and then click on "Create Draft"
Click the "Select" button next to "Country (Primary and Secondary)"
Check the box next to "All EU Countries" and press "Next"
This email is now targeting all members with an EU address in either the primary or secondary address field.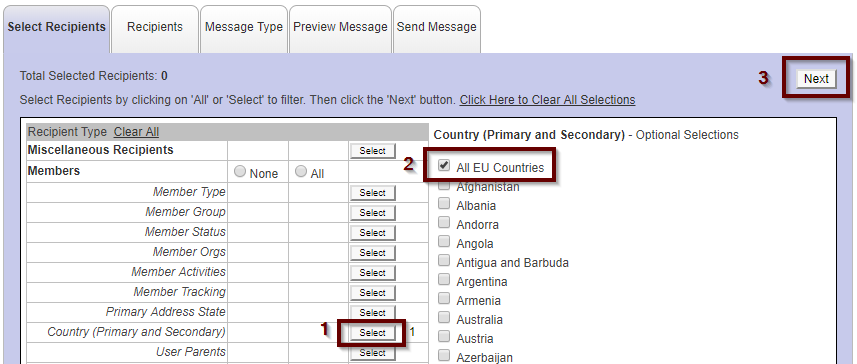 5. Send an email to EU members
Example Message
In preparation for the new GDPR guidelines, we are working hard to protect your personal data and preferences. To help comply with GDPR consent requirements, we need to confirm that you would like to continue receiving content from us, including club happenings and newsletters among other valuable information as well as consent to display your personal information in the Member Directory.
If you'd like to continue hearing from us, please be sure to update your personal settings by following the link below as you will need to opt back in to receive future emails.
Please follow this link in order to assign your email communication settings.
***Club Needs to update URL and link text
[ADD YOUR CLUB DOMAIN]/club/scripts/member/member_preferences_edit.asp