Club Calendar
Performance Boost
MembersFirst has made several additional improvements to improve the overall performance of the system during these heavy usage periods. We introduced Section Page Calendar caching, and other internal caching techniques to ensure your members are getting their information faster.
Event Registration
Online registration in the COVID-19 era plays an important role in getting the members back at the club. Due to state and local guidelines for social distancing, availability has become limited for club events, thus increasing the demand for online registrations. Below are a few of the recent enhancements that have been made for event registration.
Registration Processing
When registration windows open, members have been flooding your site. Within the first few minutes, we have seen 5x the number of members vying for the amount of available time slots. This causes a confusing user experience when they are waiting for the page to load causing them to refresh the page or click submit multiple times removing their place in line to get the registration. We have implemented an indication that the request is being processed as well as messaging to remain on the page. We have also enhanced the registration queue, so as members save their registration, a "lock" is added to ensure that a member's place in line is set. The website will then process (see screenshot below) based on the order in which they were received, thus keeping the registration process fair for all members.

Event Registration Summary
On the Event Registration admin page, note the button for Summary:

With the significant increase with event registrations, MembersFirst has made enhancements to the Summary dashboard. These improvements include new filtering capabilities, shortcuts (event title dropdown) for editing the event, or managing registrations. Events that have registrations either starting or ending that day will be highlighted. In addition, there is greater visibility for each event as it relates to availability, confirmations, waitlist registrations (if applicable), and recent registration activity.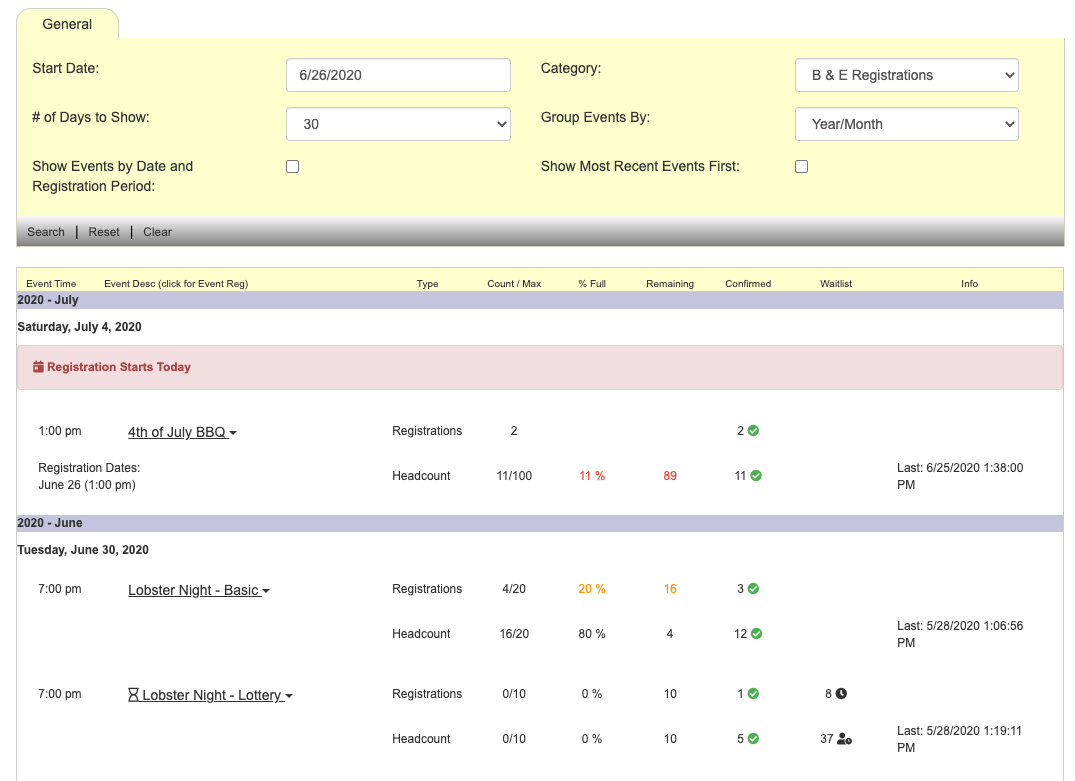 The following key indicators reflect event capacity based on a color scheme: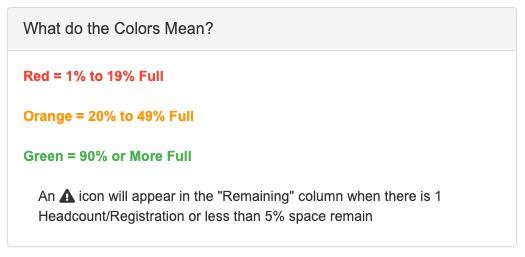 Administrative Dashboard
Asking for help has become even easier! A typeahead search field has been added to the right of the Quick Links button. MembersFirst has also included the most-viewed support topics as and trending articles based on administrative search activity.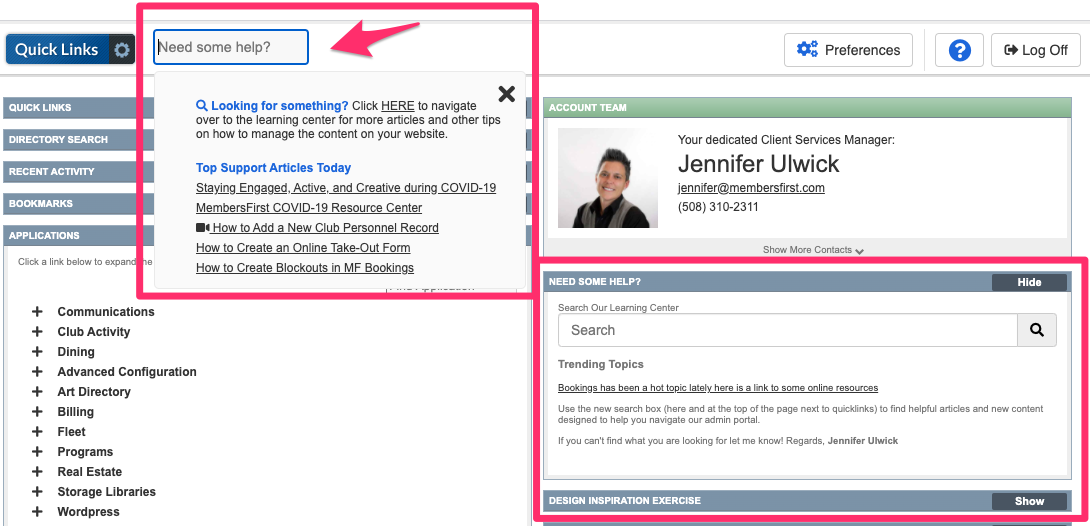 Educational Series
The MembersFirst Educational Series continues to host webinars on "core" training sessions through the summer. In addition, webinars for both the Dining Reservations and Bookings Module will continue each week through July. Please review the topics and registration links below. Administrators may also register online from the Administrative home page.
Dining Reservations
Wednesday, July 1 @ 2:00 PM - 3:00 PM EDT
Learn how members can make a dining reservation online as well as how administrators can manage reservations from the back-end. In addition, we will review the key setup features, including, but not limited to venue configuration, blockouts, and meal periods.
Bookings Module
Thurday, July 2 @ 2:00 PM - 3:00 PM EDT
This webinar will touch on the different ways the Bookings Module can be configured for any club department. We will review how to book reservations, creating blockouts, and scheduled availability.
Getting Started with MembersFirst
Tuesday, July 14 @ 1:00 PM - 2:00 PM EDT
This webinar is geared toward new administrative users and includes a comprehensive overview that applies to any club website—public, private and administrative areas. MembersFirst will review each area in detail and explain how the website is built, along with what a club administrator has the power to change.
Posting Content on your Website
Wednesday, July 15 @ 11:00 AM - 12:00 PM EDT
Information can be posted in a variety of ways; however, the focus of this webinar will center around the primary content applications, including Storage Libraries, Announcements, Inserts, and Calendar Events.
Event Registration
Thursday, July 16 @ 1:00 PM - 2:00 PM EDT
This webinar will take a deeper dive into Event Registrations. We will review the countless ways an event can be configured for online registration that works the way your organization needs it to.
Member Communications
Friday, July 17 @ 11:00 AM - 12:00 PM EDT
MembersFirst will explore how to communicate with the membership, which includes targeted communications, push notifications, and automated recurring messages. We'll also explore how to create a compelling message using the Responsive Email Builder or Global Responsive Content Templates.